Allergy in dogs can be treated with drugs without chemicals. If you are looking for a natural treatment to take care of the various ailments of your animal, you will find at Labo Demeter a line of care and a choice of medicines based on natural products.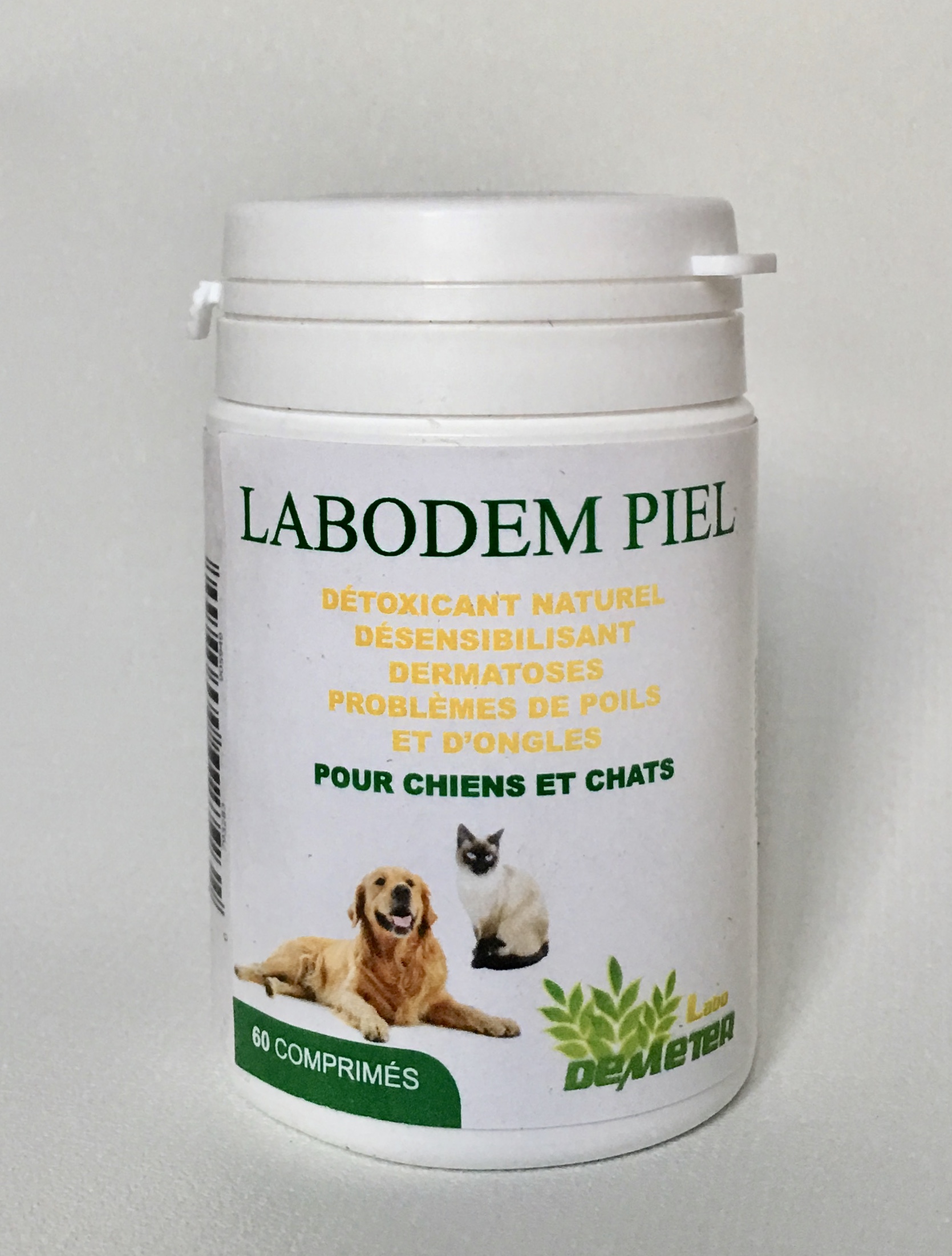 Labodem Piel for dog's allergy
Allergies in Dogs: Causes and Symptoms
Several elements can cause an allergy in dogs. They can be found in the foods served as well as in the environment in which they live. Basically, we can cite here the ingredients that can be allergenic in food products, dust, plants, products used for cleaning in the house or for his bath, but also small parasites such as mites or fleas, as well as certain chemical components of their toys for example, etc.
Symptoms can be more or less severe as they can range from a small, transient itching and pruritus to more dangerous conditions such as difficulty breathing or a persistent cough. In some cases, the allergy can also result in a runny nose, itchy and watery eyes, sneezing attacks. Digestive problems can also appear. The use of animal health professionals is always necessary in case of suspected allergy.


Treating dog allergies with natural products
To treat digestive disorders and allergic skin infections in dogs, natural care products can very well be used. Effective and affordable, these remedies are made with plant extracts, minerals and organic components with immunostimulating properties.
They are therefore food supplements used in addition to conventional pharmaceutical treatments. However, it is important to choose products designed in laboratories and by professionals (veterinarian, phytotherapist, etc.).
The internal treatment can be reinforced by the application of anti-inflammatory ointment if your pet's allergy is manifested by dermatoses or skin irritations. Prepared with natural ingredients, this type of remedy is safe for your dog if it licks.
Discover our range of natural treatments for dog and cat allergies
Passionate about natural medicine, our team has designed a range of natural treatments to treat allergic disorders in pets:
- Endostim is an innovative product containing grapefruit seed extracts (natural antibiotic), Chimera liver oil (an element with immunostimulating properties), organic silicon, concentrated Aloe Vera juice (immunoregulatory and anti -inflammatory) and probiotic extracts. This nutritional supplement is recommended for allergies, chronic viral and bacterial conditions and autoimmune diseases.




- 

Labodem Piel

, a formula enriched with artichoke extracts (detoxifying), magnesium and sulfur (desensitizer and regulator of metabolic mechanisms). This product is an effective remedy against poor digestion, chronic allergic dermatoses, hair loss and brittle and deformed nails.




- 

Siladog

, a gel ointment based on organic silicon, marine collagen, extracts of Aloe Vera, Comfrey and hyaluronic acid. In external application, this makes it possible to treat the skin lesions of allergic dermatoses.