Testimonials and customer reviews - Labo Demeter
Our testimonials and customer reviews are there to guide you towards our herbal solutions guaranteed without side effects. Discover now their benefits for your animals!
Testimonials demonstrating the expertise of Labo Demeter
Since 2004, Labo Demeter has been committed to offering you the best for your animals (dogs, cats, horses, etc.). We develop healthy, natural and very effective preparations to treat their various ailments and promote their daily comfort. We put our values ​​and all our know-how at your service! During their lifetimes, animals are often confronted with digestive disorders, a weakened immune system or skin problems. The causes are many and varied and the concern must be resolved as soon as possible in order to keep your pet in good health. A veterinary product from Laboratoire Demeter is an attractive alternative to conventional pharmaceutical drugs.
The beneficial effects of herbal medicine for animals
Our laboratory works throughout the year to come up with preparations that are fully adapted to your animal, whatever its breed, age and condition. We mainly use the recognized effects of herbal medicine, probiotics and organic silicon. Our goal is to improve the health of your dog or cat while facilitating the administration of veterinary products from Laboratoire Demeter. It is mainly for this reason that our remedies considerably limit side effects and fit perfectly into your pet's daily diet! The testimonials available on this page attest to our expertise and the effectiveness of our recipes.
Your opinion on our phytotherapeutic products
Do you want to testify on the well-being of your animal thanks to the effectiveness of Labo Demeter products? Send us an e-mail now at contact@labo-demeter.com with your name, location, postal code as well as your testimony accompanied by a photo of your animal if possible.
We will place it in this section with the greatest pleasure, in order to prove the beneficial effects of phytotherapy for animals on the health of yours!

____________________________________________________________________________________________________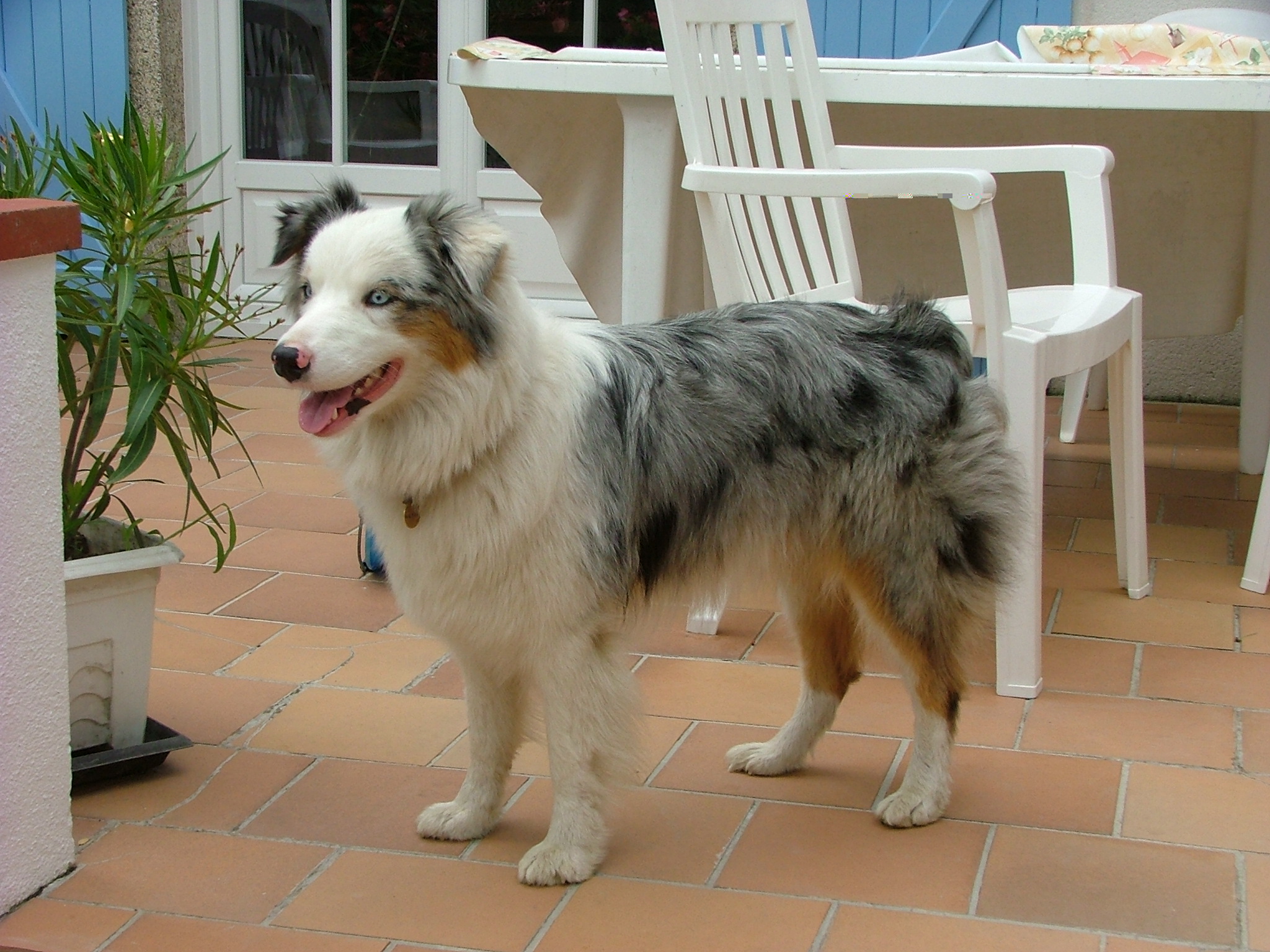 Animal treated with Bio-Haarlem for allergic dermatitis.
04/09/2008
Marie Le Bivic, Mouilleron le Captif, Vendee, France
BALIE, 2 year old Australian shepherd (bitch), agile and obedient, started to scratch in the Spring. Gradually, the skin on her tummy became inflamed and small red spots appeared as well as sores and scabs (sometimes purulent). Apart from this, her skin smelt bad even after washing her, 2 hours later she would smell bad again). Cortisone and antibiotics improved it but the itching and infections started up again once the treatment ended.
What could we do? I was a bit desperate and do not really like giving cortisone and antibiotics because even though they are effective, they have undeniable secondary effects (destruction of the intestinal flora for antibiotics, diabetes, bone loss, immuno-depression, muscular atrophy, kidney problems for cortisone). A blood test revealed multiple allergies: beef, turkey, fleas as well as pollen and trees. Regarding the first three allergens, it is relatively easy to avoid them, but it is impossible for her to avoid contact with pollen and trees! We tried homeopathy, phyto-therapy but with no luck. 
So, following the advice of someone we met at a dog work shop, I ordered BIO-HAARLEM hoping the product would work but not really thinking it would. After 3-4 days of treatment, the itching diminished, then her skin became less inflamed with less spots. She no longer had purulent sores and did not smell as bad. It has been a month now since she has been treated and her health is continuing to improve. 
THANK YOU BIO-HAARLEM for having given us both a good quality of life again!!!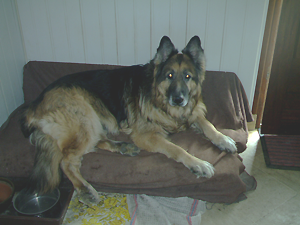 Animal treated with CANISIL for arthritis
Mrs. Giordano, Seine et Marne, France
Hello,
We're writing because a few months ago, our German shepherd, LARKO, almost 13 years old was causing us concern. In fact, he couldn't walk anymore, because of arthritic pain in his paws. We took him to the vets who advised us to take Rimadyl, a totally useless product which only made matters worse. A friend found this website and recommended it so with nothing to lose we wanted to try the treatment, but I must say we didn't really believe in it.
I would like to say a big thank you for this effective product, it's a miracle.
We are grateful to you for allowing our dog to have a normal life again, in fact, since he's been treated the swelling in his paw has gone done, he gets up by himself and is beginning to enjoy walking again. We are very pleased with the results. This treatment gives vitality to our dog and will enable him to live his last few years happily…… thanks to CANISIL….
THANK YOU VERY MUCH!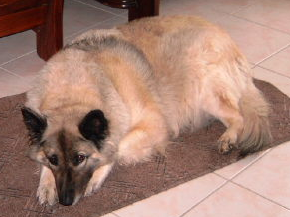 Animal treated with CANISIL for arthritis
11/02/2007
Mr.& Mrs MIDUSIC Zarija and Daniele 70240 GENEVREUILLE ( France)
My dog VOLGA is 10 years old and her back started to hurt, and I've been giving her CANISIL for some time and she stands up fine and runs like a horse…. 
Well done CANISIL.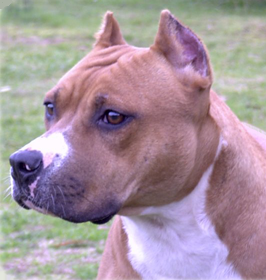 Animal treated with SILAHORSE
23/11/2006
Elevage du Clos Bayonnais
Hervé et Ghyslaine CAQUELARD
33840 ESCAUDES
Lieu-dit : Simaou
Tél : 05.56.65.90.40
Mob : 06.80.06.06.61
Email : info@closbayonnais.com
Web : www.closbayonnais.com
My dog, TWEEDY (a bitch) was treated with SILAHORSE for mammary mastitis needing surgery. Because of her young age and her reproductive career, Dr. de Peretti advised me to apply SILAHORSE. My dog was treated for I month, at two applications a day and the mastitis healed up completely. Thanks you for your advice and treatment which has avoided surgery.
REX, 12 years old, treated with CANISIL and CANIVIDA for paralysis
08/10/2006
Comment from Mr. Boccheciampe from Bastia Furiani
I wanted to comment on your website. In fact, thanks to your products and your advice, my dog is much better, he's walking easily (although when I wrote to you, he was hardly walking and didn't even go out to do his business and my vet wanted to put him down.) He swallows the pills as if they were sweets.
I can tell you, you were my last chance and I bought your products, not really believing they would work to start with. Now I advise all my entourage to use your products… and I'm enchanted with the results. I want to say a big THANKYOU.
Animal treated with BIO HAARLEM for chronic dermatitis
30/08/2006
Mrs. Marie-France PUJO, MARAMBAT (Gers)
I'm sending you this message to tell you how happy I am about a product I've just ordered from you. It's BIO HAARLEM; in fact I've been using it for 15days and the result has surpassed my expectations. My dog ROXANNE, is a 14 year old dachshund, she was sterilized at 6 years old and the following year had a bi-lateral mammectomy; after these two major operations she had a so called "hormonal" problem, which made her lose her hair in clumps, she scratched a lot, and she had a scabby " tortoiseshell" like skin on her tummy. Of course she was treated by our vet but without much result, and it is a shame because in spite of her age she is very lively and joyful and we love her very much. After I gave her 2 pills a day of BIO-HAARLEM she hardly scratches herself anymore, her coat is shiny, she has no scabs any more and her coat will soon have grown back, and what is amazing is that her thick skin has become quite soft. We are astonished in the family and I could not help but say how satisfied we are.
I'll take 2 boxes for her – Thanks!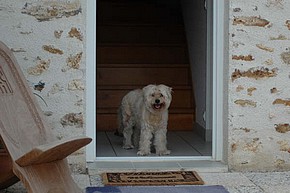 Animal treated with CANISIL for arthritis
23/01/2006
Comments from Mrs. Carole CRASSIN 78125 GAZERAN (France)
Dear Sir, 
I had a look on your website and tried to leave a message but I didn't find anything.
So I'm writing and sending a photo of my dog (a bitch) so that you can do it yourself. 
I found your website by chance one day when I was in despair about my dog, and as I did not have anything to lose, I tried your products which are not medicines and I must say my dog got better miraculously so I want to say out loud, thank you and THANK YOU VERY MUCH. TOTOTTE, 18 year old bitch who had been suffering from debilitating arthritic pain for several months, started to regain normal movement progressively, thanks to the treatment with CANISIL since October 2005.
TOTOTTE, has started running about, although before this treatment her lower body was so weak she hardly went out. Thank you so much!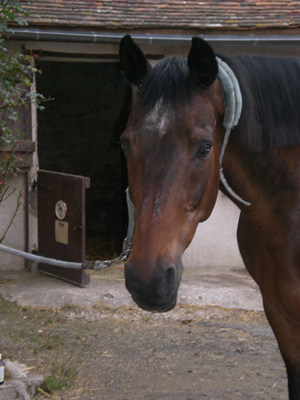 UBU, a 22 year old horse treated with HIPPOSIL for arthritis
05 January 2009
Mme Benozillo à Neuilly ( France)
Hi,
My horse, UBU, is 22 years old and has had arthritis in his right knee for several years which made him limp when trotting. After trying many treatments, I found your website and HIPPOSIL.
After three months treatment, my UBU, not only doesn't limp any more but he has wonderful vitality, I can make him go for a walk or do some dressage and you can feel he's happy to have really comfortable movement back.
A big thank you from UBU and his friends TIC-TAC and RANDOLPH (24 and 26 years old) who I've treated with HIPPOSIL to keep them in good shape. (We ride them gently and I have to hold them back!)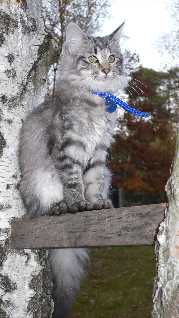 PRABHA, cat treated for mastitis with SILADOG
21 October 2008
Mrs Evrard (72 – PARIGNE L'EVEQUE)
My cat, PRABHA, had an enormous mastitis infection after a contraceptive injection. No vets had seen one like it. It was upsetting, PRAHBA was unable to walk and her life was in danger. An operation was impossible and not recommended.
With the advice of Dr. de Peretti (who I thank enormously for all his advice and comforting words) PRABHA was treated with homeopathy and massaged with SILADOG.
After a month, it started to go down and now, 7 months later, there's nothing left. Her skin has sagged but the main thing is she is still here with us….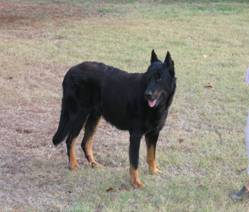 MOULOUK, 12 years old, treated with CANISIL and CANIVIDA
17 October 2008
MOULOUK, Mrs. Vaysse in St. Sulpice (81 France)
Here's my dog, MOULOUK. He's 12 years old. He has always had joint problems. Shoulders, back, hind legs. He has always been treated with anti-inflammatories, cortisone, homeopathy, massage etc;
Two years ago he couldn't get up anymore. He had lost the muscles in his hind legs and they collapsed with every step. I thought he wouldn't live very long. I looked for solutions and when I came across the LABO-DEMETER website, I hesitated as I didn't believe in anything anymore, but I read the testimonials and I called the contact number. I was surprised to get hold of a vet, Dr. de Peretti who listened and helped me choose a suitable product for my dog.
I gave him CANISIL first then later CANIVIDA as well. It took two months to see a great improvement. Four months later, he was upright on his hind legs, his ears pricked up and I watched my dog regain his muscles and become magnificent.
It's been 2 years since he's been taking CANISIL and CANIVIDA and you can see on the photo he's still beautiful in spite of his age. I continue to massage him very often as he loves it. I know he won't get younger but at least he's having a happy and comfortable old age.
I've got 2 other 11years old Beauce dogs that I'm starting to treat with CANIVIDA for arthritic problems and strained ligaments. I've spoken about these products to everybody around me as well as vets I know. I get angry when I see people stubbornly giving medication their vets have prescribed when there is no improvement and often aggravates the problem.
Thank you for making these natural and efficient products available for the well being of animals that make us happy on a daily basis.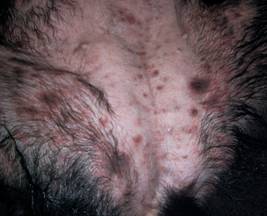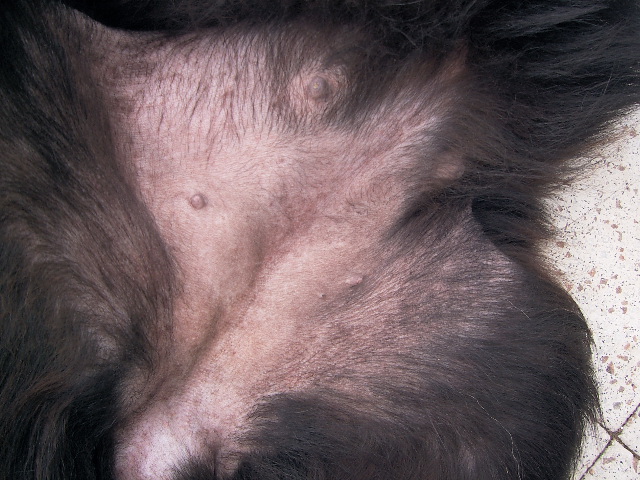 OPI a bitch with severe pyodermititis (wet eczema) before and after treatment with BIO HAARLEM and SILADOG
08 October 2008 
Testimonial of Jeannik
Hi, 
My bitch, OPI, had serious skin problems. I tried SILADOG and BIO HAARLEM and I can tell you that it has greatly improved. I'm sending you photos of her tummy before and after 1 month of treatment.
Thank you.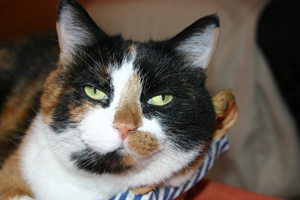 CALYPSO, 16 years old treated with CANISIL and CANIVIDA
04 October 2008
Marlene Nuage in Perpignan
Thank you so much you are wonderful!
CALYPSO, is a 16 year old cat who we love very much. Last year, she had a few health problems, notably an anal abcess, and following this a painful arthritic seizure paralyzing her hind legs. The vet treated her with strong medication which didn't do much and when I saw your website, I wrote to you and you recommended CANISIL. 
CALYPSO is on to her 2nd box and hasn't had any problems since. However, I found she was lacking energy and wasn't very lively and I phoned you for CANIVIDA, cat's panacea, it's fantastic, CALYPSO is in top form, she has got her "pep" back, here's a photo to thank you, and a bit of publicity….
Marlene Nuage, singer in Perpignan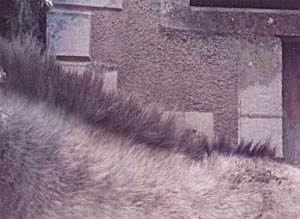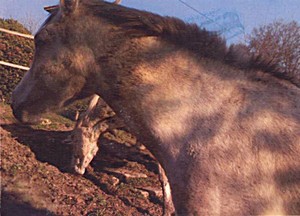 Animal treated with HIPPOHAARLEM for summer dermatitis.
RAISHA, a 3 year old thoroughbred Arab foal belonging to Mrs. Moretto (Gironde, France).
Before treatment : damage to the mane from scratching (photo on left)
After 2 months treatment, the mane has grown back, the foal is not scratching, and her coat is silky and soft (photo on right)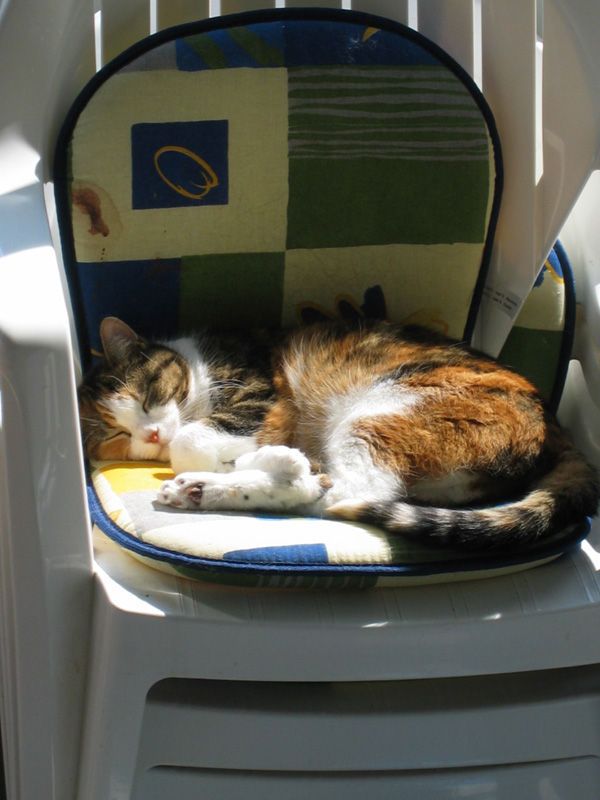 PAPAINA, a cat treated with BIO HAARLEM for a food allergy
le 22.09.2008
Sra Terretaz
Martigny (Switzerland)
Hello,
I want to talk to you about Papaina, a small tortoishell cat, 12 and a half years old, who after an intolerance or food allergy had bad diarrhoea (4 to 8 times a day) which meant she had to be washed regularly because her paws were full of stools and she was wasting away.
In a few months she lost more than 1 kilo which is not much for a human but enormous for a cat of 4 kilos.
In the beginning of August she weighed 2.7 kilos. I didn't know how to feed her anymore, every meal caused diarrhoea.
The poor animal became more and more dehydrated, she vomited and sometimes refused any food at all.
I was on the point of having her put down after having seen 3 vets who did not know what she had and increased the steroid treatment without any result.
I looked on the internet and I chanced upon the Labo-Demeter website. I wrote to the vet who gave me judicious advice based on natural products to stop Papaina's diarrhoea (green mud and BIO-HAARLEM). She is still under going steroid treatment (2 drops) and takes 1 tablet per day of BIO-HAARLEM.
She doesn't have diarrhoea anymore and weighs 3.8 kilos. 
A big thank you to the Demeter Laboratories as well as Dr. de Peretti for his precious advice and for his support. Corinne Terrettaz
Animal treated with CANIVIDA
Mr. LEGROS in LOUCHATS (Gironde)
We've been giving CANIVIDA to our dog (a bitch) FRIMOUSSE, a Pyrenees Shepherd, 10 kilos, 18 years old and six months. We were able to stop giving her Incurin for incontinence.
CANIVIDA has considerably reduced her joint pain, and helped her to regain weight. Her coat is thicker and her general fitness is good. Our dog jumps like a gazelle and is still capable of going for walks on the beach, she still loves running and her appetite is excellent. However, her eyesight is very bad and her hearing is not good, although her joy for life is still intact.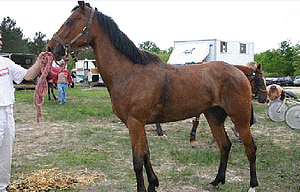 NAIADE (mare) treated with HORSE MACASIL for weight loss and diarrhoea
Naiade du Tin, a French trotter belonging to Mrs. Regine Testas, Haras de la Grezere in Coimeres (Gironde) after a race in which she finished an easy third, and after 1 month of treatment with HORSE MACASIL. This mare was particularly thin, a fussy eater and had digestive problems with frequent diarrhoea and smelly stools. She gained 80 kilos, finished her meals with appetite and her digestion is normal and she is back to her usual form.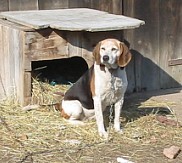 Animal treated with CANISIL
JESSIE, an 11 year old beagle bitch belonging to Mr. and Mrs. SOMMARD (Bazas 33) suffering from debilitating arthritic pain for several months, started walking again and regained normal health after a month's treatment with CANISIL.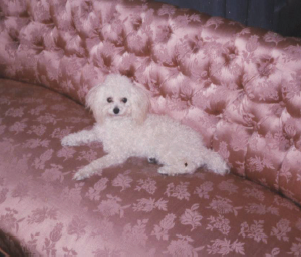 Animal treated with CANISIL
Margarita, León, Spain
Hello friends, allow me to introduce myself, I'm MARLENE, a toy poodle, and I live in Leon in Spain, and I'm 8 years old. My life is very happy with my mistress Margarita who strokes me, spoils me and loves me very much. I'm telling you this because I'm grateful to have been cured and to have regained a normal and happy life. Here's my story:-
In January 2005my left paw started hurting, I was taken to a vet who said it was a sprain and gave me an anti-inflammatory injection, but it became more and more painful and I blew up like a balloon, so I was taken back to the vet.
Scans were taken and they did not know where the pain was coming from until they did an X ray which showed it was coming from my spine which was pinching in 2 places and I had " parrot beaks" (calcifications?) everywhere.
For 2 months I couldn't walk in spite of the anti-inflammatories (Zubrin) until a friend of my mistress gave her the address of Labo-Demeter that he had seen on the internet.
We got in contact and explained the problem to the vet, they sent us some Canisil that I took as directed. Three or four days later I was walking, going up and down the stairs and now I'm running, jumping and I play with my friends. I'm a happy little dog and I thank you for making my life bright and joyful. Thank you very much for all your good advice and for having resolved a serious problem.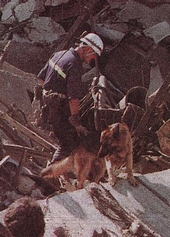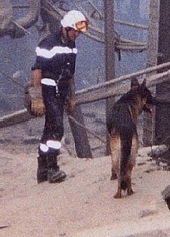 MAUSER, treated with BIOHAARLEM for chronic dermatitis
MAUSER", a 9 year old German shepherd, now in the synotechnical research team for the Gironde firemen, here in action, on the site of the AZF disaster in Toulouse (21.09.2001) with his master, deputy chief William Poutays.
This dog had been suffering for more than 2 years from persistent dermatitis and in spite of all the treatments undertaken (and there were many, as well as tests and biological examinations, which was diagnosed as an allergy with infectious complications (pyodermititis). He was itching a great deal, losing his fur, had sores everywhere and smelled unpleasant. Cortisone and antibiotics improved his condition, but did not cure him, as symptoms flared up again after treatment had stopped.
Treated for 2 months with 2 pills a day with BIO-HAARLEM, he is now cured and everything is back to normal. We just have to take care of his skin with a reasonably priced therapeutic shampoo with no side effects.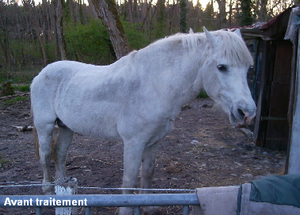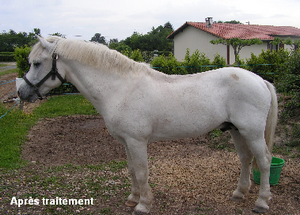 Animal treated with HORSE MACASIL for ageing and lack of vitality
Before treatment on the left and after treatment on the right
LUSTY a 28 year old Connemara pony, belonging to Mrs. Klein, living in Bernos Beaulac (Gironde) was very thin and run down, which you can see in the top photo. The bottom photo shows him after 1 month's treatment with HORSE MACASIL: the pony put on 50 kilos, his ribs are no longer visible, his croup, back and neck have filled out and in particular his appetite and joyfulness have returned and he is galloping spontaneously in his field.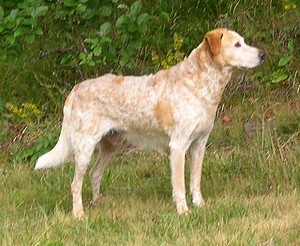 Dog treated with CANISIL and CANIVIDA
MARCEL, a 14 and a half year old dog belonging to Mr and Mrs Gervais 06 Cannes; Suffered from progressive paralysis of the lower spine with deficient propriocepture due to arthritic and degenerative compression of the medullar, and was treated in the classic way for 2 years. His owners, unable to put him down, and on the advice of Dr. de Peretti, gave him CANISIL and CANIVIDA: after 3 months Marcel regained practically all his faculties as shown in the photo.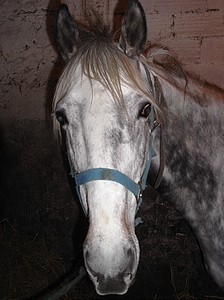 Horse treated with HIPPOSIL
KISSINGEN, an 8year old thoroughbred flat and obstacle racehorse belonging to Mr. DURROUX 332110 Coimeres.
In 2004 he suffered from back pain and stiff shoulders. He was treated for a month with HIPPOSIL, and participated in 18 races in 2004 and was placed 17 times.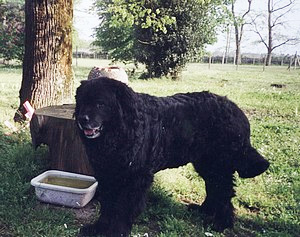 Animal treated with CANISIL
GALOPIN, Newfoundland dog, 13 years old at the time of the photo (equivalent to more than 100 years for a dog of this size) belonging to Mme Maille 33210 Preignac.
Six months before the photo, this dog could hardly walk anymore, and his mistress was contemplating having him put down.
He took CANISIL regularly and he can now walk well.
You can see on the photo the beauty and thickness of his coat, thanks to the beneficial effects of pro-biotics, perna-canaliculus and silicon.